May God Bless you Team
Alex Jones - The T-Rex of Radio Talk Shows
Most people wonder about people like

Alex Jones

and

David Icke

and can't figure out why neither of them have been killed by the Illuminati, like so many others have! I believe this answer is quite clear now, i have been deliberating over this for a few years now, and over the last few weeks it has become clear.
Most other people who end up dead or in prison for exposing the Illuminati, are the people exposing the fact they are a satanic cult with a satanic agenda, and outline specifically that their world government plan will ultimately be fulfilled with the coming of the Antichrist, and the fulfilment of Bible prophecy written in the Book of Daniel and Revelations.
Fritz Springmeier Exposing Illuminati Bloodlines on the show Prophecy Club
Fritz Springmeier is a Christian, who helped mind control victims of the Illuminati break the hold, and get them saved to Christ. Fritz also wrote a book called Bloodlines of The Illuminati which is an amazing read, where he details (eerily similar to what David Icke says) The Bloodlines of The top 13 Families of the Illuminati and tracks it back right into Babylon, He also has some teachings i don't agree with but i believe he is very accurate with his accusation they are planning to bring The Antichrist, and also in you need to accept Jesus in order to go to heaven, so anyway, Fritz got jailed for 20 years, David Icke on the other hand, who has exposed a lot more than Fritz ever did, is aloud to roam freely continuing exposing and deceiving people with the idea we are nothing but consciousness.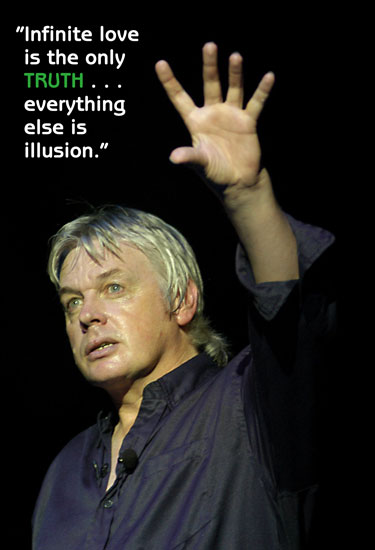 Icke's theory is another way to keep you from heaven
So lets take this into perspective, David Icke - exposes the Illuminati but tells you Jesus was not special, and there is no God - Fritz Springmeier does not expose half as much as Icke, But tells you there's a Jesus and a God, and the bible is true - He gets 20 years
John Todd - ended up in Jail on False Charges, then just Disappeared
John Todd, who

claims to be an ex-member of the Illuminati

and i believe him because i have heard every claim he makes from different sources and backed up by evidence, and also he was imprisoned and then disappeared, right after he made his testimony, that is a big enough sign to say this man was exposing something, people did not want him exposing.
John Todd Confesses that he was part of the satanic cult, performed satanic rituals, and that after he got out he accepted Christ and decided to expose it all, WHAT IS THE BETTING, IF JOHN TODD CAME OUT AND SAID I'M HERE TO EXPOSE THE ILLUMINATI, BUT THERE IS NO GOD OR JESUS, HE WOULD STILL BE ALIVE AND SPREADING THIS FALSE TEACHING?
So the difference between being kept alive, and being shut up, is if your telling THE COMPLETE TRUTH or not, if you explain Jesus is Lord, there is a God, there is Devil, the Devil has groups like the Illuminati which are creating a world government in order to fulfil bible prophecy and bring the Antichrist to rule the last world empire, then you will be shut up as fast as they can.
However if your story is a deceiving story, like David Icke, you are, well i hope he is being used as a "useful idiot" so to speak, I'm not saying David Icke is an idiot, he is a very smart man, but his teaching that we are all conscious energy etc is very in line with the new age movement, watch

Megiddo 2: The New Age Movement

for more on that, so seeing as he is deceiving people, its a gain to the Illuminati to have him keep speaking, after all they know they are working with the devil, do you think you can stop them? The devil is in control of this entire plan, and bible prophecy for told the world government would be a success, and ultimately run by the Antichrist.
Alex Jones always talks about we are winning this fight, i believe we can stop them, Humans will look back on this in a thousand years and say we defeated them. This is all good talk for getting his listeners pumped up! And don't take this post the wrong way either, Alex Jones actually woke me up and i pray for him every night! I love the guy but when he goes on to tell people we will win, its just not true.
And Alex also says he is a Christian and loves God, and i love that fact about him, he probably had a lot to do with me getting saved, But if he is a Christian why does he not acknowledge the prophecies of Daniel and Revelations? they clearly tell we are living in the last world empire, which ultimately will be a world government, which will be ruled by 10 kings, and then the Antichrist will take total power!! this was written 2600 and 2000 years ago, is it just chance this plot for world government really got rolling in the 1700's? just like the bible said? no! its prophecy being fulfilled to the letter!
So just as we can see it being set up by the Illuminati and the Freemason's which are 2 strings on the same rope, we can also look to the Bible prophecies to see how its going to turn it, and it clearly explains this Antichrist will take control of the world government and force every person on the planet to take his mark, which will then forfeit his soul, and the Devil ultimately wants to stop you from going to heaven! so that's what the Antichrist will do when he is in power.
So i believe Alex Jones is aloud to stay on air and is not being shut down because he does not warn of the Illuminati's main goal, he sometimes talks about things being 65 million years old, the world is 6000 years old created by God!! so he has a lot of unknowing deception coming from his show, i don't believe he is a bad guy, i don't believe he is doing any of this on purpose, i just think he is still technically asleep in this department regarding the prophecies of things to come.
He will be kept alive and well i would imagine until he touches on any major subject like Antichrist, Bible Prophecy, Accepting Jesus and keeps speaking about it, if he does that i imagine they would have him taken out.
This is just my own opinion but i believe it holds reasonable arguments, as to why he has not actually been jailed or worse killed! I would really like to get in touch and actually ask Alex what he makes of the Bible prophecies it would be interesting to see his answer!
Any thoughts or comments welcomed! Visit

www.infowars.com
- don't fall for "we will beat these globalist" - these satanist, are simply fulfilling Gods word.